In Memory
Louis Sturm VIEW PROFILE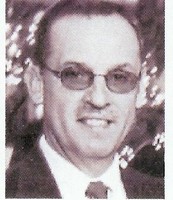 STURM, Louis Ervin, 61, of Richmond, passed away Thursday, December 15, 2011, surrounded by his family. He was preceded in death by his parents, Ervin C. and Margaret K. Sturm; and his sister, Susan C. Sturm. He is survived by his wife of 37 years, Barbara Faye Sturm; two sons, Garland Ashley and Graham Justin Sturm; one sister, Nancy M. Reynolds (John); one brother-in-law, Charles "Moe" Inge (Lisa); his aunt, Margie Sturm; four nephews, and many friends. A gathering of family and friends will be held 5 to 8 p.m. Sunday at Bliley's-Chippenham, 6900 Hull Street Rd., where a funeral service will be held 2 p.m. Monday. Interment will be private. In lieu of flowers, contributions may be made to the National Hemophilia Foundation or the Children's Hospital.
Published in Richmond Times-Dispatch on December 17, 2011
Click here to see Louis' last Profile entry.