In Memory
George Andrews VIEW PROFILE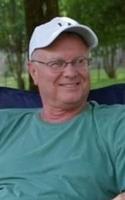 On Friday, February 26, 2021, George Clay Andrews of Richmond, Va., passed away doing what he loved. George was born on January 1, 1950, in Raleigh, N.C., to Clay Parrott Andrews and Gladys Yancey Andrews.

George had a passion for photography and going on trail walks with Roxy in Larus Park. He loved being surrounded by friends and nature, which shows in his many beautiful photographs. George also loved music, most dearly Elvis, The King. He was a great Dad, teaching his daughter, Kelly, how to enjoy life and practice general foolishness. His warm smile, generosity and sense of humor will be missed by many.

George was preceded in death by his father, Clay; his mother, Gladys; and his brother, William "Bill" Andrews. He is survived by his daughter, Kelly Andrews Bowers; his sister, Joy Andrews Williams; and his granddog, Roxy.

A Remembrance of Life will be held on Sunday, May 16, 2021, at The Pony Pasture on Riverside Drive, between 11 a.m. and 1 p.m. In lieu of flowers, donations can be made to The Friends of Larus Park.
Click here to see George's last Profile entry.