In Memory
Bill Spruill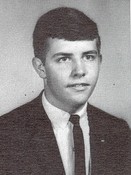 Leonard William "Bill" Spruill

Leonard William Spruill, 58, of Lynchburg, died Sunday, Sept. 27, 2009.
He was the husband of Elizabeth Martindale "Betty" Spruill for 23 years.

Bill was born Nov. 21, 1950, in Hampton, a son of Essie Rowe Spruill of
Lynchburg and the late William Eli Spruill.

In addition to his wife and mother, Bill is survived by his son, Adam Nash Spruill, and his wife, Liza, of Forest; his grandsons, Andrew and Ashton Spruill of Forest; a brother, James Spruill, and his wife, Laurel, of St. Petersburg, Fla.; a brother-in-law, Bob Martindale, and his wife, Sunny, of New Orleans, La.; a nephew, Boyd Canody, and his wife, Shelia, of Concord; and other aunts, uncles, nieces and nephews.

In addition to his father, Bill was preceded in death by a brother, Michael.

Bill was a good Christian man who always showed love and compassion for others. The Lord has gained a beautiful bass voice to add to his celestial choir. Bill sang and traveled for many years with both the Jefferson Choral Society and the First Presbyterian Church Choir. Bill never forgot a family member's or friend's birthday. He was known to send a card with an enclosed personal note. He was especially proud of his grandsons, Andrew and Ashton. Bill was a retired school teacher and a member of Grace Memorial Episcopal Church.

A memorial service will be conducted at 3 p.m. Thursday, Oct. 1, 2009, at Grace Memorial Episcopal Church with the Rev. Catharine Montgomery officiating. A reception will follow the service in the church fellowship hall. The family will hold a private inurnment prior to the service.

Memorial contributions may be sent to Grace Memorial Episcopal Church, 1021 New Hampshire Ave., Lynchburg, VA 24501, or the charity of your choice.