In Memory
Sarah Skipper (McCullom)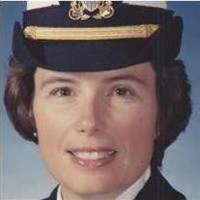 Inline Image Not Displayed
Sarah Skipper McCullom; Captain U.S. Navy, Retired

Sarah Skipper McCullom, 64, a retired Navy Captain who owned the antique appraisal company, Hidden Treasures, LLC, died of cancer 14 March 2015 at home with her family.

CAPT McCullom retired from the Navy after 30 years of service as a fleet support officer. While serving in the Navy, she received a Masters in Business Administration from National University.

Her career included tours of duty in Florida, Missouri, California, Hawaii, Illinois and the Washington area where she has lived for the last 24 years. Highlights of her career included serving as the Officer in Charge of the Personnel Support Detachment at NAS Moffett Field, the Commanding Officer of the Naval Alcohol Rehabilitation Center Pearl Harbor, and the Executive Officer, Service School Command, Great Lakes, IL. Her decorations included the Legion of Merit (gold star), the Meritorious Service Medal (gold star), the Navy and Marine Corps Commendation Medal (2 gold stars), and the Navy Achievement Medal.

After her military retirement, CAPT McCullom embarked on a second career as a professional antique appraiser and entrepreneur. She became an accredited member of the American Society of Appraisers and launched Hidden Treasure Appraisals, LLC in June 2004.

CAPT McCullom, a resident of Alexandria, VA, was born in Durham, NC, and graduated from the University of Alabama.

She was an active member of Zeta Tau Alpha Sorority, Business Network International, and the American Society of Appraisers.

Survivors include her husband, CAPT Hugh Joseph McCullom USN (Ret.) of Alexandria, VA; two children, LCDR Dawn S. Knasas of Virginia Beach, VA and Hugh David McCullom of Burbank, CA; three grandchildren, Arijus, Paul, and Karina; and many devoted friends.