In Memory
Susan Stowell (Bowmer)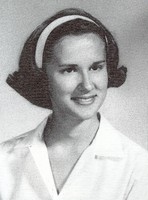 Susan Lynn (Stowell) Bowmer

Rutherford, TN

Susan Lynn (Stowell) Bowmer of Rutherford County, TN, passed away from cancer on September 25, 2017.

She was preceded in death by her husband, Ted, and her parents, Charles P. and Alice Stowell. She is survived by her daughters Allison and Alicia; her sisters Patti, Gaynia and Joan; step-children Connie and Steven; two nieces, a nephew, ten grandchildren and several great-grandchildren.

She spent her time acting in many local productions at Center Stage, wrote several novels, sang in the choir and served as a deacon of her church.

Her perseverance and love for others will never be forgotten.

All who knew her are invited to celebrate her life at First Presbyterian Church of Goldsboro, NC at 4:00 PM on Oct. 14.

In lieu of flowers, please donate to the American Cancer Society.
Published in Tennessean on Oct. 8, 2017