In Memory
Pat McInteer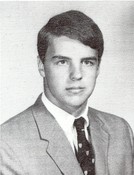 Richmond Times-Dispatch (VA) - August 11, 2008
Deceased Name: McINTEER, Earl Patrick "Troy"
McINTEER, Earl Patrick "Troy", died suddenly August 7, 2008. He was born January 30, 1950 in Roanoke, Virginia. He was the son of the late Lt. Col. James F. McInteer Jr. and Cathlyn Speese McInteer of Richmond, Va. A graduate of the University of Georgia and a member of Sigma Nu fraternity, Troy made his home in Greene County, Georgia. A former little league coach, he found his avocation in life as a dedicated teacher at Union Point Elementary School. He is survived by his wife, Marguerite Reynolds McInteer; his mother; a brother, James F. McInteer III (wife, Cindy); a nephew, James F. McInteer IV (wife Nita) and a great-niece, Samantha McInteer of King William, Virginia. Other survivors include Carolyn and Lee Parker, Frances and Gentry Strickland, Jamie and Kathy Reynolds, Harold and Lesley Reynolds, Beth and Bobby Thomas, Jim and Ellen Strickland, Bill Strickland, Jamie Reynolds IV, Chandler Reynolds, Jackson Reynolds, Jack Thomas, Will Thomas, Carolyn Strickland, Mary Cate Strickland, and Davis Strickland. A memorial service will be held at Union Point Elementary School Gymnasium on Saturday, August 9 at 3 p.m. The family will receive friends following the service at the Reynolds home at 205 S. East Street in Greensboro. In lieu of flowers, memorials may be made to Union Point Elementary School, 1401 Highway 77 North, Union Point, Georgia 30669, or the Oconee Regional Humane Society, P.O. Box 3986, Eatonton, Georgia 31024. McCommons Funeral Home, 109 W. Broad St., Greensboro, Ga., (706) 453-2626, is in charge of arrangements. To sign the online guest register, please visit:
www.mccommonsfuneralhome.com
.