In Memory
Leonard Alley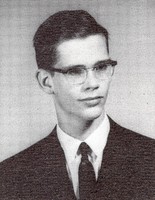 Leonard Mason Alley
ALLEY, Leonard Mason, 60, of Richmond, died April 11, 2010. He was preceded in death by his father, Milton M. Alley. Survivors include his mother, Elizabeth S. Alley; his sister, Marilyn A. Gowen M.D. and her husband, C.W. Gowen M.D.; his brother, Daniel M. Alley Ph.D. and his wife, Beth Alley; four nieces, Catherine and Martha Alley and Sarah and Rebecca Gowen; and many extended family members and friends. His remains rest at the Huguenot Chapel of Woody Funeral Home, 1020 Huguenot Road, where the family will receive friends from 6 to 8 p.m. Thursday. Graveside services will be held 10:30 a.m. Friday at Westhampton Memorial Park, 10000 Patterson Avenue. A memorial service will be held 1 p.m. Friday at Bon Air Presbyterian Church, 9201 W. Huguenot Road. In lieu of flowers, memorial contributions may be made to either Bon Air Presbyterian Church or Richmond Children's Hospital.
Longtime Richmond Braves official scorer dies
By: HANK KURZ Jr.
Associated Press
04/12/10 5:40 PM EDT
RICHMOND, VA. — Leonard Alley, the fastidious official scorer for the Richmond Braves of the Triple A International League for three decades, and for several years the official statistician of the entire league, has died after a brief illness.
Alley died Sunday night at Chippenham Hospital after becoming ill late Saturday, his brother said. He was 60.
Alley worked as the official scorekeeper for the Braves from the mid-1970s until 2006, Dan Alley said, keeping track of everything from the number of pitches thrown to hits, runs, errors and the time of the game. He served as the league's statistician in the late 1970s.
"He was doing the whole Triple A league with a calculator and a pad and paper," Dan Alley said, noting that his brother was reluctant for many years to begin to rely on computers.
International League president Randy Mobley came to know Alley in recent years, and said he became something of a rarity at a time when several teams used several official scorers.
"Right up until the end (of the Braves' stay in Richmond)," Mobley said, "he worked a lion's share of the games. If you were in the press box, it was a good bet Leonard would be there."
The Braves moved from Richmond to Gwinnett County, Ga., following the 2008 season, but Alley was planning to return to the press box this season as the official scorer for the Flying Squirrels of the Double A Eastern League, the city's new minor league franchise.
Bruce Baldwin, the general manager of the Braves at the end of their 43-year stay in Richmond and now with the team in Georgia, said Alley was "one of the characters of baseball. He was a stickler for the rule book, even when there were other circumstances to consider. If it was in black and white, that's what Leonard would do, and that's not a bad thing."
He was, Baldwin added, "very much a fixture of baseball in Richmond."
A business phone systems manager at Wachovia and then Capital One by day, Alley also worked on the statistics crew for University of Richmond football and men's basketball games for several seasons, and was a fixture at other college football and basketball games.
He graduated from the University of Richmond in 1974 with a master's degree and worked during his time in school on the stats crew. He later worked in the sports information department at Virginia Commonwealth University before moving into telephone systems work, where his almost photographic ability to recall numbers and complex codes served him well.
"Leonard never changed," said Mike Harris, former sports editor of the Richmond Times-Dispatch who also worked with Alley at VCU. "He was a trusted, hard-working professional who could be counted on to do the job the right way. He took his work seriously."
Alley is survived by his mother, Elizabeth Alley, of Richmond; a brother, Dan, of Charlottesville; and sister, Marilyn, or Norfolk, as well as four nieces.
His family will receive guests at Woody's Funeral Home on Huguenot Road from 6 p.m.-8 p.m. on Thursday. Burial with be Friday morning at Westhampton Memorial Park, followed by a funeral service at Bon Air Presbyterian Church on Friday at 1 p.m.