In Memory
Phelps Walker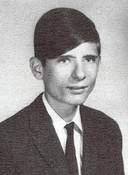 Richmond Times-Dispatch (VA) - November 21, 2008
Deceased Name: Phelps WALKER Jr.
Phelps Jr., 58, is being remembered today as a loving husband, brother and friend. Mr. Walker, who has been living in Sarasota, Florida, passed away November 17, 2008 after a brief illness. Son of the late Phelps and Josephine Walker, he is survived by his wife, Joanie; one brother, Michael Walker and wife, Holly, of Chesterfield, Virginia; and two sisters, Paxton W. Allgyer and husband, Chris, of Big Stone Gap, Virginia; and Kelly W. Sorensen and husband, Howard, of Norfolk, Virginia. A celebration of life service will be held at 2 p.m. on Saturday, December 6, 2008 at Manakin Episcopal Church, 985 Huguenot Trail, Powhatan. In lieu of flowers, the family requests you make a donation to your favorite charity in his name.