In Memory
Eric Domme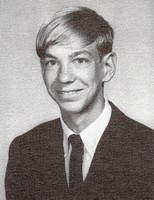 Eric Domme
Posted: Thursday, April 17, 2003
Eric Joseph Domme, 52, Topeka, died Monday, April 14, 2003, at his home.
Mr. Domme was a carpenter for Castlewood Construction for 15 years.
He was born June 2, 1950, in Topeka, to Joseph Michael Domme and Sheila Rose Quinlan. He graduated from John Tyler Community College as a computer programmer and had lived in Richmond, Va., for 20 years.
Mr. Domme was a member of the Christian faith.
He married Gabriele Ray on Nov. 25, 1987, in Topeka. They were divorced.
Survivors include his father, Joseph M. Domme, Topeka; a son, Luke Eric Domme, Overbrook; and a sister, Julie Ann Poe, Marietta, Ga.
Mr. Domme was cremated. Memorial services will be at 1 p.m. Friday at Brennan-Mathena Funeral Home. Inurnment will be at a later date.
Contributions may be made to the Eric J. Domme Memorial Fund and sent in care of the funeral home, 800 S.W. 6th Ave., Topeka, 66603.