In Memory
Carey Causby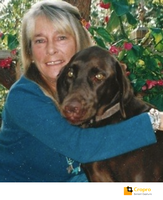 CAUSBY, Ms. Carey Winston, 71, of Isle of Palms, S.C., passed away at her home Friday, June 18, 2021 following a period of declining health.

Carey was born February 2, 1950 in Richmond, Va., daughter of the late Jack Mayfield Causby and Mabelle Winston Causby.

She is survived by her aunt, Martha Winston Warriner of Lexington, S.C. and; cousins, Ann Ellis Chaffins of Midlothian, Va., William R. Warriner of Lexington, S.C., H. Winston Warriner of Herndon, Va. and Edgar W. Sibold of Woodlawn, Va.

Carey was a graduate of Huguenot High School in Richmond and The University of South Carolina. She taught art at Morningside Middle School in Charleston County for 28 years, where she took great pride in working with students to help them develop an appreciation for art in the world around them.

Carey was happiest when surrounded by family and friends. Her door was always open and she loved visits from friends and relatives both near and far. She would greet you at the door with a big smile and a boisterous, "Well, hey!" Her fur buddies, especially Sadie, brought her great joy and comfort over the years.

For those wishing to honor her life with a charitable gift, the family has chosen one of her favorite charities: Charleston Animal Society, 2455 Remount Road, North Charleston, S.C. 29406.

Published by Richmond Times-Dispatch from Oct. 26 to Oct. 27, 2021.